Bram Moolenaar, treasurer of ICCF Holland, visited the Kibaale Children's Centre in June 2018. This is his report.
You can find more pictures on Google Photos.
A short video of the kitchen can be found on Youtube
Boys Become Men
This happens every year: After writing exams in our secondary school in Kibaale the students eagerly await the results. The big question is: Can they go for A-levels? If they can, it is the biggest step in the life of a teenager in Kibaale. Not only because it determines what profession they can learn for, it also means they will leave their home town and live in a boarding school, far away from their familiar surroundings. For our girls we have Timothy center in Masaka, which is still growing. Many of our boys go to St. Mark's college in Namagoma. This is a bit far away, it is close to Kampala. The reason we select this school is that our boys do very well here.
Since I heard so many stories I decided to visit St. Mark's on my way back to the airport. I must say I'm impressed. This school teaches 2000 children in all secondary levels. It is a big compound with large classrooms, library, sports facilities and dorms. I met the head teacher, who took the time to explain the way the school works and show me around. I also briefly met the director, who turns out to be very enthusiastic and friendly. He himself struggled in his young life to get a proper education, he can relate very well to the difficult life of the boys from Kibaale.
They gathered all the Kibaale students in a classroom, so I could greet them and talk with them. They all were very happy. They tell me it is hard to study at St Mark's, there is an awful lot to learn in the two years of A-levels. But they encourage and help each other, and know that there will be a big reward at the end: a chance to join a university. We know this works, our students are often among the best of their class. And that is in a school that is in the top ten of best secondary schools in Uganda. I am very glad we have sponsors that make it possible for these boys to study at St. Mark's!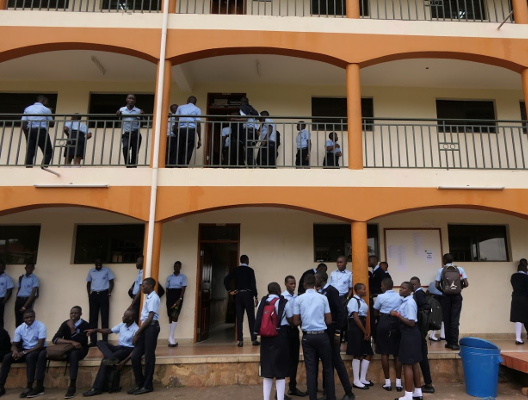 The classroom block at St. Mark's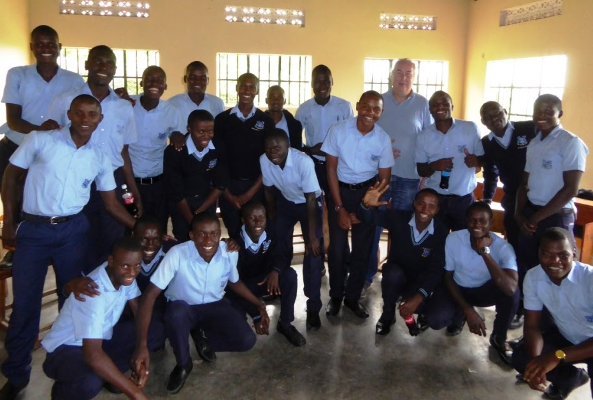 The Kibaale boys currently studying at St. Mark's



The bridge between the project and Kibaale town, with the pump house on the left

Changes

Rakai district has been split in two parts last year. The north, with Kalisiso and Kyotera is now called Kyotera district. The result is that Kibaale is the largest town in Rakai district! The administrative center, Rakai town, is a lot smaller. It appears the split has had no influence on everyday life, and we still talk to the same government administrators.

Water supply in Kibaale has always been quite bad. There is a well with a pump at the roundabout, but it has broken down and I don't see anybody fixing it. Most people get their water from the river, which provides enough for everybody, but it is unsafe. It should be boiled, but not everybody can afford that. A small white building popped up near the bridge, with a high fence around it. I have been told it is to house a pump that is going to bring water to a filtering site. We will have to see how that will develop. If it works, it would be the greatest step forward since being connected to the electricity net. And a huge improvement in public health.
Electricity

When I visited last time in 2016 Kibaale town had electricity, but the project didn't. The clinic is now connected, it's at the end of a long 230 Volt line. That helps being able to treat patients and have the laboratory do tests all the time (except during power failures, of course). This line is too weak to connect the whole project to.

Fortunately, a transformer has been installed and it is connected to the high voltage line. The only missing piece is the connection to the generator shed. I have been told this only depends on a formality, the electric installation needs to be approved. We hope this will happen in a few weeks.

Once connected it will greatly reduce the electricity costs: Running a generator is expensive. And it will make electricity available around the clock. The generator was only on during working hours and a couple of hours when it is dark. The solar system had broken down a year ago and is too expensive to fix. The next time I visit the sausages in the fridge won't defrost on Sunday, like they did now.





The transformer is connected to the net





The core of the project: children in school

Continuous growth

When the driver that picked me up from the airport drove towards Kampala, he accidentally entered the new toll road. It's not officially open yet, thus we had to turn back. But it is mostly done and forms a fast connection between Entebbe and Kampala, connecting to the ring road. Having a four lane highway with toll booths indicates how the economy of Uganda has grown. This time we had to take the slow road and "enjoy" the busy traffic. At my next visit I hope to enjoy the new highway, it is expected to open in November.

The project in Kibaale now has almost a thousand students. It is incredible how the steady growth over the years has resulted in giving so many children a bright future!

Bram Moolenaar

You can find more pictures on

Google Photos

.

A short video of the kitchen can be found on

Youtube